The $1.9 Trillion COVID-19 Relief Package was passed in the Senate this week and will be considered on the floor of the House tomorrow, March 10, 2021 at 9 a.m. ET. This $1.9 Trillion in aid is in addition to the $2.3 Trillion in COVID-relief passed by Congress last year. Much got cancelled in 2020, but "Trillions" got normalized.
If and when this new relief bill passes the House, it will then go to the President to sign into law. That may occur on the same day or weeks later. Former President Trump signed the March 2020 CARES Act one day after it passed Congress, but it took several days for the December 2020 bill to be processed and presented for signature due to… politics.
I'll run through what's included in the newest COVID-19 relief bill below. Feel free to use this handy stimulus calculator to see if you qualify.
$1.9 Trillion COVID-19 Relief Package
In order for the bill to pass in the Senate, given the current makeup of the Senate, changes were made from the previous bill proposal to increase the likelihood of its passing. In other words, this version of the bill that the House will see tomorrow is more conservative. The new COVID-19 Relief Package includes the below changes to eligibility for stimulus checks, tax ememptions, unemployment benefits, and more.
$410 billion of the $1.9 trillion will go towards stimulus checks. Individuals with income under $80k ($160k for couples) will qualify for $1,400 payments. This compares to the previous cutoff of $100k/$200k.
Adult dependents are now included, as well as children and families with mixed status citizenship
Federal unempoyment checks to extend to September 6, 2021 at a $300 weekly rate. The house initially proposed $400 weekly ending in August 2021.
Up to $10,200 in unemployment payments received in 2020 will be tax-emempt (today I learned that unemployment payments are taxable)
Expanded child tax credits to allow families to claim up to $3,600 per year for kids under 6 and $3,000 per year for kids age 6-17. The plan also expands the benefit to lower-income families who otherwise wouldn't receive the credit
Families can get back as much as half of the childcare expenses for children under age 13, up to $4,000 for a single child and $8,000 for +2 children
No student debt forgiveness, but the Senate added a provision that would make any forgiven student loan in the future tax-free

President Biden says he's "prepared to write off $10,000 [student debt per borrower], but not $50,000." $50k student debt write-off was proposed by Democrats.

No $15 minimum wage increase, as Senate ruled the wage hike was illegal under the rules of the federal budget
$160 billion set aside for nationwide vaccine distribution

Includes $46 billion for testing and tracing programs, $5.2 billion for vaccine research, development, and manufacturing, $7.7 billion to hire public health care workers

Extending eviction and foreclosure bans until September 30, 2021 and providing $30 billion in rental assistance for renters and small landlords, especially for low and moderate income households
$128.6 billion to help K-12 schools reopen
$25 billion in aid to restaurants and other eat/drink establishments
$350 billion in state and local aid

California – $26 billion of general funding for state and $15 billion for local governments
New York – $12.7 billion for state, $10.6 billion for local governments, and $5.6 billion for New York City and its counties

Los Angeles city will get $1.2 billion and Los Angeles County will get $2 billion
Democratic Senator Ed Markey of Massachusetts referred to the $1,400 stimulus checks included in the $1.9 Trillion economic relief package as "a down payment", in his latest push for ongoing payments throughout the pandemic. "We will not stop until we pass at least a $15 federal minimum wage," he added.
Several Democrats, including Bernie Sanders, Elizabeth Warren, Alex Padilla (CA), Corey Booker (VT), Ron Wyden (OR) and others have been pushing for $2,000 checks per month since the start of the pandemic. After all, what everyday American wouldn't support that?
I'm just thankful that we have the best and brightest doing the number crunching that objectively justifies a U.S. money supply balooning at a rate we've ever seen before, and that no politics might be involved whatsoever.
From 2019 to 2020, the totally supply of US Money (M2) grew 25%, the highest amount on record by a long-shot, and it looks like 2021 will be another year for the record books.

Tweet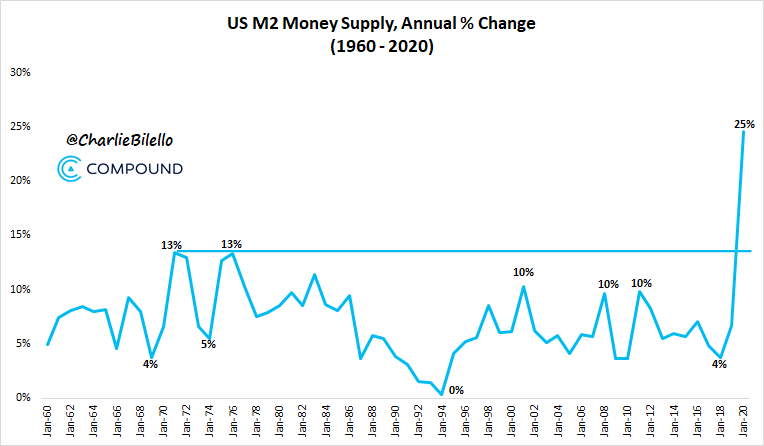 Another measure (TMS/Rothbard-Salerno) shows M2 much higher. This measure differs from traditional M2 measure in that it includes Treasury deposits at the Fed (and excludes short-time deposits, traveler's checks, and retail money funds). More technical than I have time to get right now.
Last but not least…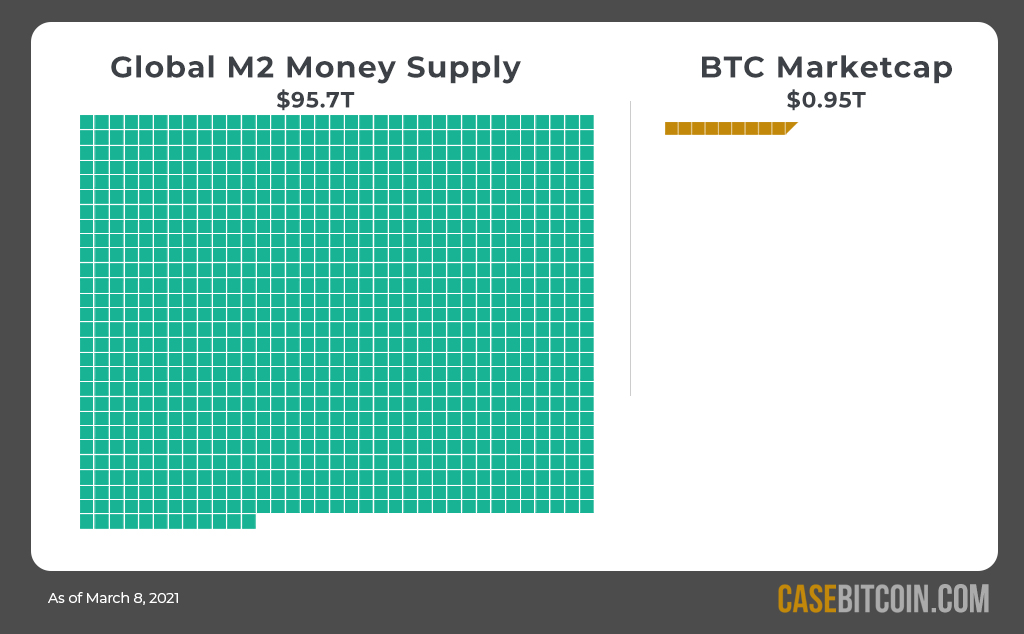 #jk